Hitachi's Innovations for a Carbon Neutral World
Hitachi is combining advanced energy and digital technologies to power the hydrogen economy. It aspires to be a driving force in the sustainability transition.
Hitachi's hydrogen innovations
Hitachi is developing a wide range of innovative technologies to help accelerate sustainable transitions. As hydrogen becomes a key element to society's energy system of the future, Hitachi is exploring ways to connect across the value chain through advanced digital solutions. This includes hydrogen production, transmission and distribution, hydrogen-based power production, and applications such as process plants and mobility
Hitachi's multi-grid management system will allow for the integrated control of renewable sourced vectors such as electricity, hydrogen, heat and gases. Connecting hydrogen supply systems to power and gas grids, this system will become a necessary infrastructure for the hydrogen economy to emerge. The system being studied by Hitachi could even be connected to a carbon grid to circulate carbon dioxide for solar chemical synthesis for example.
Talking about a carbon neutral world
Such innovations can only power the sustainability transitions when they are rightly embedded in the existing societal and natural environments. With the understanding of an organic multi-sectorial collaboration Hitachi is in dialogue with a wide range of actors. At the Hitachi-UTokyo Lab (a joint research platform between Hitachi and the University of Tokyo) researchers are developing a "transition scenario" for Japan's carbon neutrality in 2050.
Based on its unique research, simulations, and expert interviews, Lab researchers have constructed detailed descriptions for transition pathways to be expected in dozens of domains, including energy, industry, and societal behavior. The Lab convenes various public forums to invite leading experts in government, business, and local communities to discuss the challenges of their specific domains.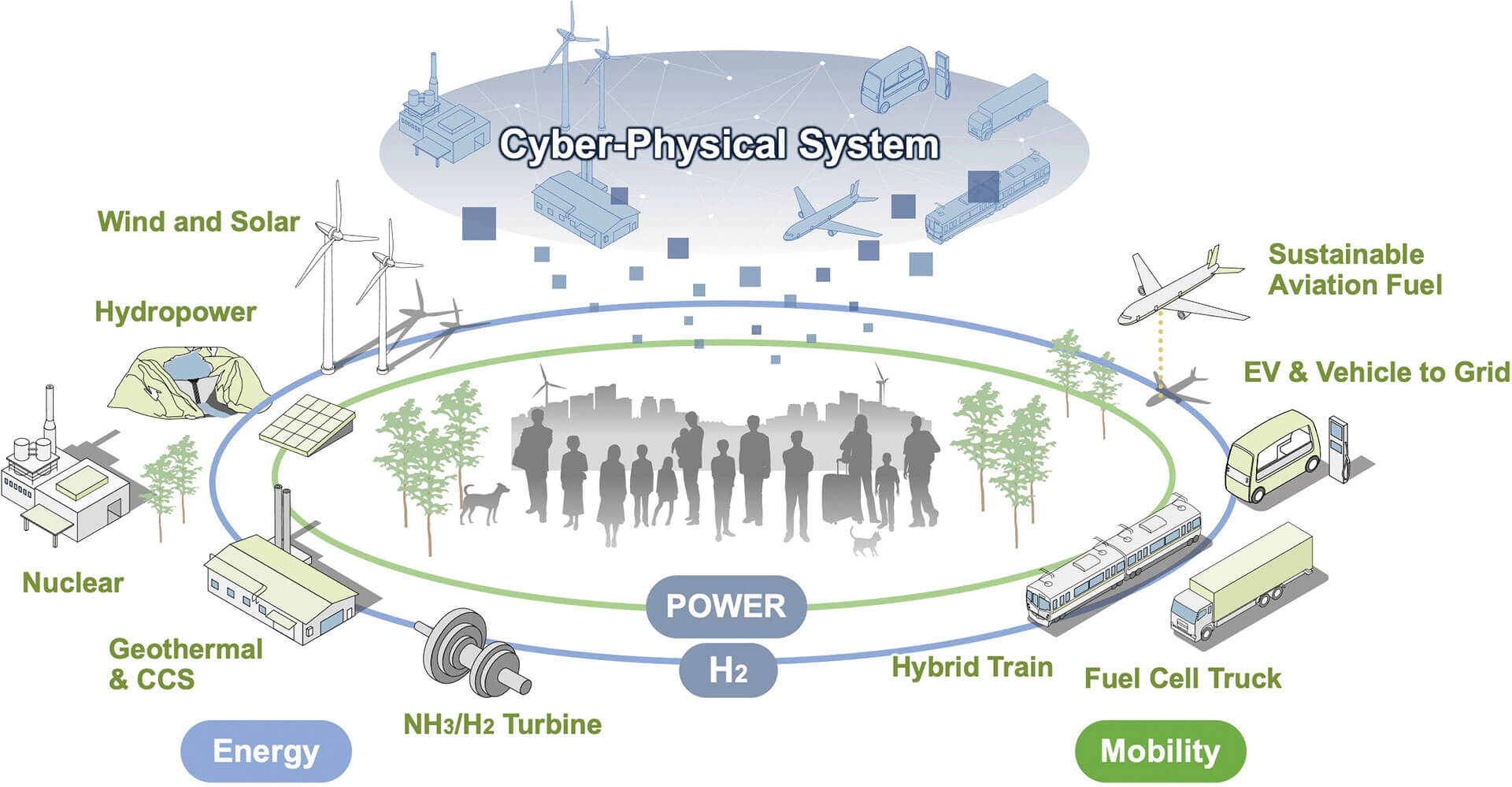 Envisioning prosperity within the Planetary Boundaries
In the 21st century age of socio-ecological crisis, we must envision a world in harmony with nature and to define concrete pathways to achieve this vision. The objective is to enable society to live and exist within our planetary boundaries.
Hitachi aspires to be a driving force in constructing a sustainable future. We will continue to seek for the most advanced knowledge and technologies of our time and to engage in dialogue with people around the world.