#turningmetalsgreen and beyond
Policies to curb climate change are forcing the steel industry – which accounts for more than 7% of global CO2 emissions – to fundamentally transform and decarbonize.
Plant engineering plays a key role in the transformation of the steel industry, since all the necessary processes, technologies and designs are developed by or in cooperation with plant manufacturers. With 150 years of experience in plant engineering, SMS group and Paul Wurth are paving the way for a carbon-neutral metals industry, providing different routes towards green steel production. A hydrogen excellence center, located at Paul Wurth in Luxembourg, is supporting the whole portfolio of SMS group including hydrogen generation and Power-to-X.
When available at a fair cost and on a large scale, green hydrogen plays a pivotal role in cutting emissions in the steel industry as it is a perfect reducing agent for substituting the fossil fuel-based iron ore reduction.
In the medium and long term, most steel producers' roadmaps to climate neutrality foresee replacing the conventional carbon-based blast furnace route with a hydrogen-based route using a direct reduction process. As an alternative to the direct reduction route, which requires substantial investment, existing steel mills can also be gradually converted to achieve rapid reductions in greenhouse gases. For example, injecting synthesis gas and/or hydrogen into the blast furnace reduces the carbon input and can achieve CO2 savings of up to 70%.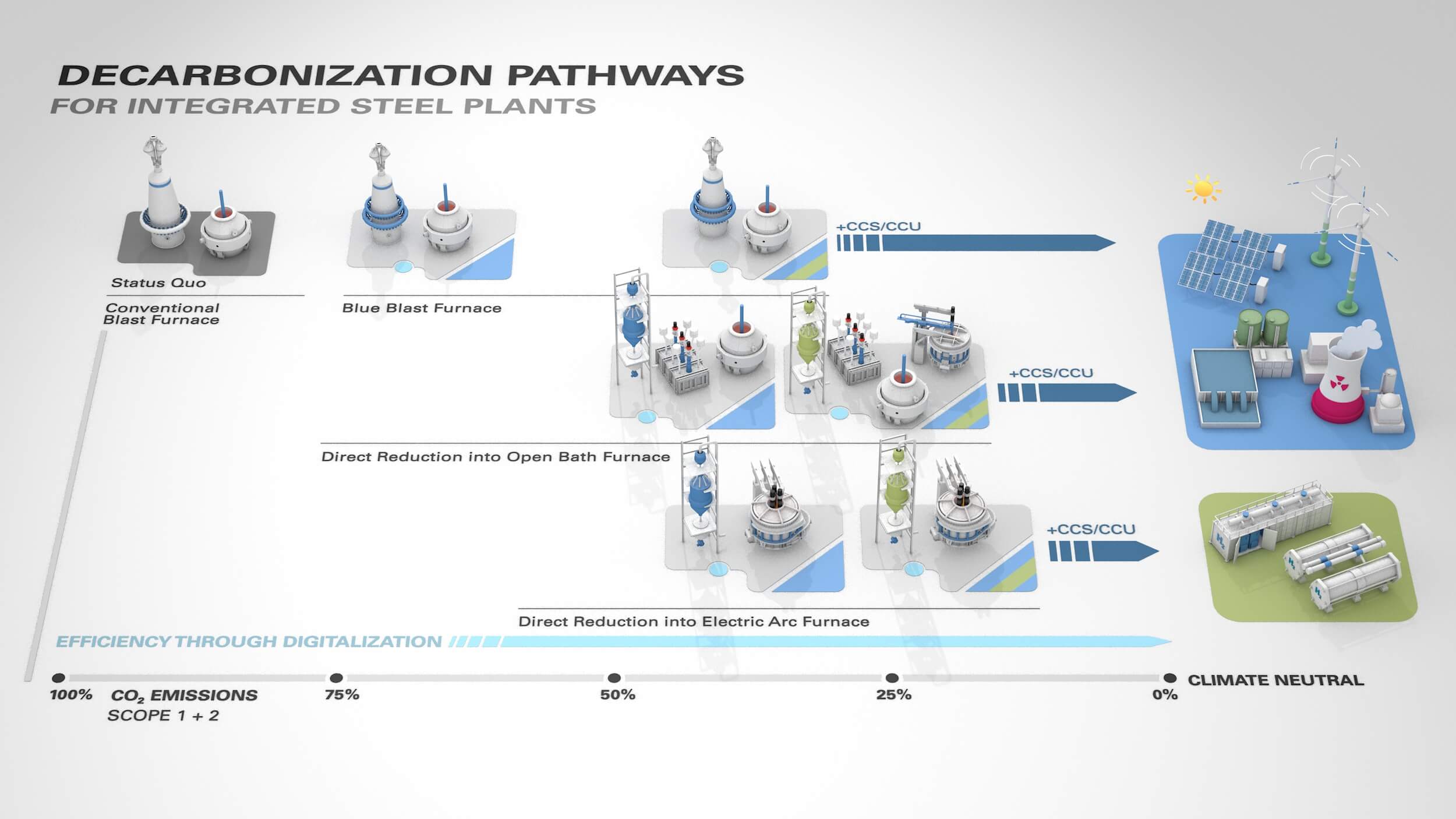 Apart from accelerating the use of hydrogen in the steelmaking processes, SMS is also actively shaping the production of renewable hydrogen. In 2019, Paul Wurth became a strategic investor and technology partner of Sunfire, a leading electrolysis provider, which has developed a highly efficient process for high-temperature electrolysis; the Solid Oxidizer Electrolyzer Cell (SOEC) uses steam instead of liquid water. Since the steam can be generated from waste heat from industrial plants, this technology is the perfect fit for the integration into steel mills, non-ferrous and other industries.
One best practice example is the Green Industrial Hydrogen (GrInHy) project in Salzgitter. The project consists of a SOEC system producing renewable hydrogen, which is directly fed into Salzgitter's hydrogen grid. Another showcase is the MultiPLHY project, set at Neste's renewable products refinery in Rotterdam, which relies as well on SOEC technology and Paul Wurth's engineering and system integration.
SMS group is also involved in the development of projects for producing synthetic fuels. Replacing fossil fuels with hydrogen-based synthetic fuels is particularly interesting for hard-to-electrify sectors such as the aviation industry and other heavy goods transportation. In 2020, Paul Wurth and partners founded the company Norsk e-Fuel – a consortium focusing on the production of sustainable aviation fuels. Furthermore, SMS is an investor and strategic partner of Swiss company Synhelion, pioneering in the field of sustainable solar fuels.