Global technology and power solutions leader Cummins Inc. has installed a 20-megawatt proton exchange membrane (PEM) electrolyzer system to generate green hydrogen. Commissioned in January 2021, the Cummins electrolyzer system – called the HyLYZER – is the largest of its kind in operation in the world and is located at the Air Liquide hydrogen production facility in Bécancour, Quebec.
The Cummins HyLYZER® PEM electrolyzer technology is the result of over 20 years of development by Hydrogenics – a Canadian company acquired by Cummins (September 2019). This installation features four compact pressurized electrolyzer skids that were fitted inside an existing building. This is a modular and scalable electrolyzer platform designed to address utility-scale hydrogen production. 
The Bécancour facility can produce over 3,000 tons of hydrogen annually, increasing hydrogen production capacity by 50% and allowing Air Liquide to meet the growing demand for low-carbon hydrogen. The decision to locate the PEM electrolyzer system in Bécancour was based on two location attributes: its access to the abundant renewable power from Hydro-Québec and its proximity to the hydrogen mobility market in the north-east region of the continent.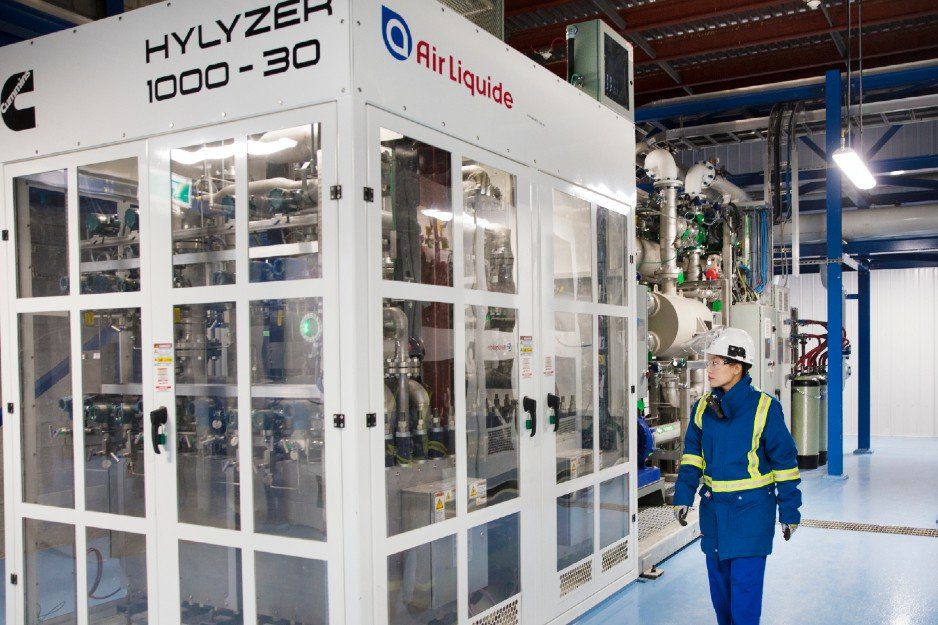 The electrolyzer system is powered by the region's electrical grid, which is largely supplied by hydro-electric power, meaning that the hydrogen generated will be almost green. Compared to the traditional hydrogen production process, this new production unit avoids around 27,000 tonnes of CO2 per year, equivalent to the emissions of 10,000 cars per year. It is a great illustration of Air Liquide's and Cummins' commitment to generalize the use of hydrogen as a clean energy vector. This is a key milestone on the path towards a low-carbon society.
"Creating hydrogen technologies at scale is paramount to growing low-carbon solutions," said Amy Davis, Cummins Vice President and President of New Power, the company's alternative power business. "We have successfully developed our technology from 1MW to 5MW, and now have the largest PEM electrolyzer in operation in the world. It will continue to take enterprises, governments, forward-thinking customers and utilities all working together to make alternative power a reality. Here we are seeing how green hydrogen can improve sustainability for industrial manufacturing and how the demand for decarbonized hydrogen solutions will grow."
Susan Ellerbusch, CEO, Air Liquide North America and Group Executive Committee Member, says: "The fight against climate change is at the heart of the Air Liquide Group's strategy. With this world's first and biggest, Air Liquide confirms its commitment to the production of low-carbon hydrogen on an industrial scale and its ability to effectively deploy the related technological solutions. Hydrogen will play a key role in the energy transition and the emergence of a low-carbon society."
Prior to Bécancour, Air Liquide and Cummins installed a 1.2-megawatt PEM electrolyzer called they HyBalance in 2018. Located in Denmark, the site supplies clean hydrogen to customers and supports Denmark's carbon reduction goals. In partnership with Air Liquide, this electrolyzer provided proof-of-concept and became the predecessor that led to the Bécancour project.
Electrolyzers provide a means to address one of the largest dilemmas in the renewable energy industry – how to store the renewable energy when it is not in demand. Electrolyzers enable the storage of excess energy that would otherwise be sold off to the market at a financial loss (or not harnessed at all) and instead stores that energy to sell into the green hydrogen market. They can also be used to decarbonize multiple sectors including zero emission transportation, industrial processes, and the green chemicals sector.
Continuing to scale and advance their electrolyzer capabilities, Cummins announced in May 2021 that they are locating one of the world's largest electrolyzer manufacturing plants in Spain. The 22,000-square meter facility will produce electrolyzer systems with an initial production capacity of 500 megawatt per year and are scalable to more than one gigawatt per year. This manufacturing facility is expected to open in 2023. Additionally, a 230-megawatt green hydrogen production project is planned in Spain and is poised to set the next benchmark for large electrolysis projects globally.