Fronius has been researching and developing hydrogen solutions for 20 years, becoming an innovation leader in the use of green hydrogen from solar energy. We talk with Thomas Rührlinger (Hydrogen Solution Manager) and Mathieu Delpierre (Hydrogen Sustainability Expert) about the societal benefits of green hydrogen.
What is green hydrogen and what can be realized with hydrogen in general?
Mathieu DELPIERRE – Currently, there is no uniform definition (yet). There have been political debates about the definitions of the different types of hydrogen. At present, hydrogen production methods are divided via color-coded scheme. Green hydrogen therefore stands for renewable hydrogen. The most established technology options for producing green hydrogen is water electrolysis powered by renewable electricity. 
Thomas RÜHRLINGER – Together with the fuel cell, hydrogen has the potential to revolutionize the entire energy supply. Whether as a fuel in transportation or as an energy supplier for electricity and heat generation: Hydrogen enables the use of renewable energy sources in all these areas.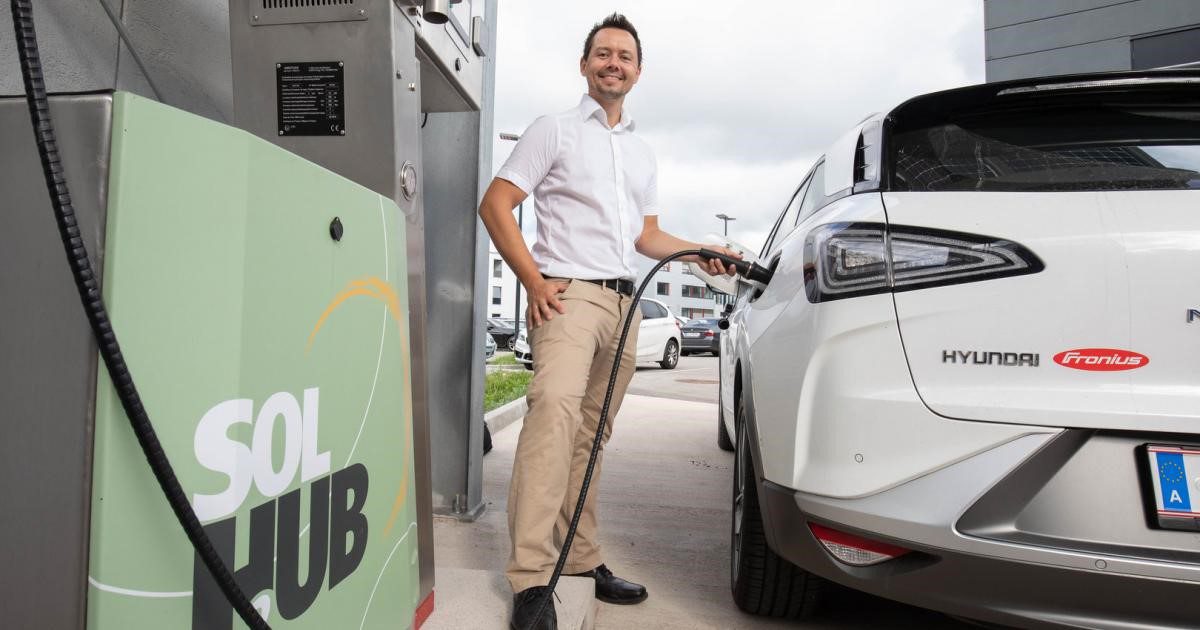 Fronius offers a sustainable solution for green hydrogen from renewable energy with its Solhub. What are the benefits for customers?
TR – The Fronius Solhub is our system solution for generating, storing, distributing and converting green hydrogen from solar, wind and water energy back into electricity. It uses electrolysis to convert ecologically generated on-site electricity (and renewable electricity via the public grid) into green hydrogen, which can be stored over the long term. This opens up various possibilities: On the one hand, the solar power yield of the summer can be brought into the winter, and thanks to reconversion, green electricity is available all year round. On the other hand, the hydrogen can be used to fuel hydrogen vehicles. More and more vehicle manufacturers are already offering models or prototypes with fuel cells. In-house logistics, work vehicles, bus fleets, trucks, special vehicles or snow groomers are good examples. The task now is to build up the necessary ecosystems consisting of decentralized refueling infrastructure combined with the use of available vehicles.
What role will green hydrogen play in the European energy mix of the future? What hurdles are there to overcome?
MD – As shown in many scenarios, hydrogen will play a vital role in Europe's climate neutral economy as a crucial energy vector and could supply a substantial part of the European energy mix by 2050.
The production of green hydrogen via electrolysis enables synergies from sector coupling to be exploited, reducing technology costs and increasing the flexibility of the power system. Low various renewable energy (VRE) costs and technological improvement are decreasing production costs of green hydrogen. For these reasons, green hydrogen from water electrolysis has been gaining interest.
However a supportive policy framework will be required to cover the cost gap with alternatives.